SAFE black temporary tattoos ~ Harquus and body paint
SAFE alternatives to "Black Henna"

Many clients want BLACK temporary body art that looks like a tattoo. They want the body art to last a few days, and to not wash off. It is dangerous and illegal to do body art with para-phenylenediamine (PPD, synthetic black hair dye), usually sold as "Black Henna". "Black Henna" can leave people with severe scars and long term health problems.

For more information on the dangers of Para-phenylenediamine as body art see:
http://www.hennaforhair.com/ppd/ppdreaction/
http://www.hennapage.com/henna/ppd/index.html

Henna is safe, but will not give people the jet black mid-body markings that look like tattoos. There is NOTHING that you can safely add to henna to make it black. Anything called "black henna" is NOT henna. Anything which stains your skin jet black within 20 minutes is NOT henna and is NOT SAFE.

Harquus is a word for various black cosmetics traditionally used in North Africa and the Middle East. Durable black body paints have been made for generations by combining plant resins and fats with carbonized wood, lignite, and cellulose. Chemically similar body paints are available now, developed for the film and television industry, when actors need realistic looking temporary tattoos for roles. These come in many colors. These paints are FDA approved. The ingredients of Harquus, Temptu, and similar body paints are isapropanol, ethanol, cellulose and cellulose derivatives, castor oil, and safe cosmetic colorants. Harquus black is made with ultramarine blue and black iron oxide. These paints are "set" with talcum powder. These are absolutely safe, even on children. When properly applied, this temporary tattoo looks identical to a REAL tattoo. These last for 1 to 5 days, depending on body placement and care. When you wish to remove this temporary tattoo, you simply wipe the paint away with rubbing alcohol or surgical spirits.

There are several sources of harquus and other safe, durable body paints:
http://www.mehandi.com
http://www.temptu.com
and
http://www.AmerikanBodyArt.com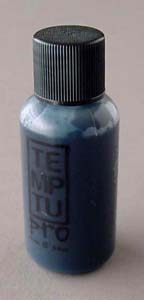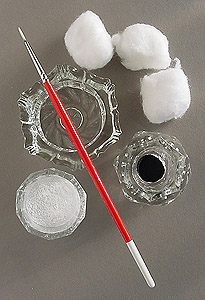 Resin based body paint, harquus, from your favorite supplier
and the tools you see above.
You'll need these materials:


1) A small brush, size 0 to 5 (available at fine art supply stores).
2) Cotton balls and talcum powder for preparing the skin and setting the paint.
3) Rubbing alcohol for cleaning the brush and correcting mistakes.
4) Body paint and a tiny container to pour out one drop at a time.

Do not try to use a cheap brush! Cheap brushes paint messy lines.
Make sure you have talc talcum powder, not cornstarch!
Shot glasses and sake cups are very convenient for holding your materials!
Application instructions for harquus or temporary tattoo paint:
1) Clean the subject's skin with soap and water to remove cosmetics. If the subject has oily skin, clean with an astringent to remove as much oil as possible.

2) Apply talcum powder to the skin with a cotton ball, and wipe away the excess. This will prevent your paint from "feathering" on the skin.

3) Shake your bottle of body paint. The pigments in the paint settle to the bottom of the bottle and you MUST shake the bottle each time to disperse the pigment. Put one drop of paint into your little cup. Allow that drop to evaporate. Pour in one more drop of paint onto the evaporated drop. Brush the two together and begin painting.

4) Apply the patterns. If your brush gets heavy with paint, rinse it in rubbing alcohol. If your paint is too thin, evaporate another drop in your little cup. If your paint is too thick, add half a drop of rubbing alcohol.

5) When you have finished applying the paint, powder the patterns again with talcum powder. Make sure the powder is "talc" and not corn starch. This powder will bind with the paint to create a durable, realistic-looking temporary tattoo.

6) Gently rub the talcum powder into the skin. In a few minutes, all of the powder will be absorbed into the paint. The paint will be water-resistant, but can be removed quickly with rubbing alcohol.

You can make your harquus last longer on the skin by dusting it lightly with talcum power when it starts to look shiny.
Download a FREE ebook, "The Henna Page "How To" Harquus", a guide to creating SAFE black temporary tattoos without dangerous "black henna", without para-phenylenediamine or other coal tar dyes. This ebook has "step by step" instructions for tribal style body art in safe, easy to use harquus
Click on the images below to view videos of "How To" do harquus, step by step.
Can't find what you want here? Try
The Henna Page Main Index.